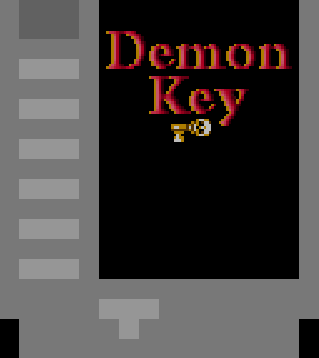 Demon Key
A downloadable game for Windows
---
WELCOME to DEMON KEY
The demon took your wife!!. Pursue him throughout monster infested dungeons by collecting all the golden artifacts to summon the DEMON KEY. Dodge the spikes, jump over lava, climb ropes and use your weapons to defeat your enemies and grab the demon key to unlock the door.
HURRY UP!! Collect the torches before the light goes out...No second chance...timing is the key
---
FEATURING
---
- 8 HARDASS Levels (dungeon rooms)
-Bonus stages, secret ropes and areas to find
-Many different weappons and the ultimate golden axe to be found in treasure chests
-Collect diamonds for extra lives
-Good old retro style graphics (NES colors).This game was inspired by Ghosts N `Goblins, Solomon's Key and many other NES 8-bit classics. We really cranked up the difficulty to make it a challenging game. So even if you die,don't give up.
-Gamepad support
-You are welcome to send us your comments and feedback. All comments are important to us
johnson666@email.com
Thank you all visiting our page and have fun.
credit:
Coded,game desing and product by jonathan johnson
graphics by surt,vk,charm,charles leblanc

first room music by deadearth (http://opengameart.org/content/dire-times)
credits music by Snabisch (http://opengameart.org/content/in-summer-nes-version)
music by revemped pro (http://opengameart.org/content/8-bit-music-pack-lo...)
sfx by bart (http://opengameart.org/content/8-bit-platformer-sf...)